Yes! we are open and accepting new students. The minimum age to sign in is 13 years old.
Cracovia REOPENING on AUGUST 1st 2020.
1. We will be practicing outdoors in the parking lot.
2. All students must have masks.
3. Social distancing will be enforced.
4. Please have with you a yoga mat.
———————————————————————————————-
May 27, 2020, update: The best way to describe my Cracovia students: Consistency, dedication, and determination!
Since March 26, we completed 36 online classes…Yes… 36 classes! (due to Covid-19 closing).
The good news is that Cracovia will be reopening in the not-so-distant future. Please check in often! 
March 16, 2020, COVID-19 update:
Starting today, Cracovia will be closed until at least end of the March.
News/April/2019
Like most of you know, our own Linus Rastegar after 12 years learning foil fencing at Cracovia under my direction and completing the high school moved to his native country Austria to continue his fantastic fencing path.
He is living in Vienna and dedicated his time only to fencing for the last eight months: daily private lessons with Austrian Olympic Coach Evgeni Pickman! conditioning, lifts, bouting and competing around Europe (well… I miss that part)
Here are the latest news: last weekend Linus took bronze medal at Austrian Junior Championship!
He got enough points to make top 10 in Austria in seniors and qualify for the Grand Prix in Shanghai, China. Linus received an invitation from the Chinese Fencing Federation to
train at the Olympic Training Facility in Peking a few days before the
Grand Prix in Shanghai. BRAVO!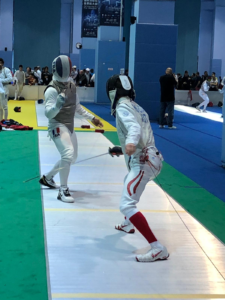 Cracovia 21 years tradition!  2019 Foil Fencing Camp!
June 17 to June 21 Monday to Friday from 9 AM to 1 PM.
My younger students  will be taught the basics of the sport, weapon use, foot work and conditioning exercises. Advanced fencers will work on conditioning exercises and improvement of their competitive skills. A competitive tournament will be held at both levels (Friday). Also on Friday lunch would be provided by Cracovia. Prepare yourself for the perfect fun week of foil fencing! 
One Madison woman is aiming to share her passion for the sport of fencing, just in time for the Summer Olympics in Rio!…
Thank you to Laura Kocum Writer-Marketing for your time and interest in Olympic Sport Foil Fencing Cracovia…and for a fantastic article about us!
Click here to read:Olympic Foil Fencing Offers Exercise and Community
Cracovia Olympic Foil Fencing School has a new Home!
New Address: 622 Struck Street Madison, WI 53719  
New phone number: 608-424-5596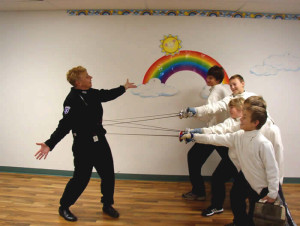 Gorgeous, two story, just renovated 2400 square feet facility! Excellent West site of Madison location, beautiful light fixtures, boasting high ceiling in fencing area, Wi- Fi, big lobby, changing  and  armory room, private restroom and more…!
Location 622 Struck Street Madison WI 53719.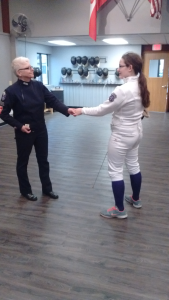 Cracovia is dedicated to promoting the wonderful sport of foil fencing. Fencing can be looked at as a life-long recreation skill that provides an individual with relaxation, fellowship, enjoyment and a refreshment of body, mind and spirit.
Celebrating fair play, challenge, respect and fun since 1997. We offer group instruction, club, private lessons and summer programs for ages 9 and up. Cracovia welcomes fencers of all experience levels. We encourage both women and men to give this sport a try. Check the Lessons and Club page for current classes and membership in Madison. Cracovia also reaches out to promote foil fencing throughout the area, and has offered  classes in Mount Horeb since 2003 and in Sun Prairie since 2006. Check here for Mount Horeb classes and here for Sun Prairie classes. We have offered summer programs since the founding of the school in 1997 and plan to continue that fine tradition.  Check the news blog for upcoming special programs!
FB Page: https://www.facebook.com/foilfencingcracovia